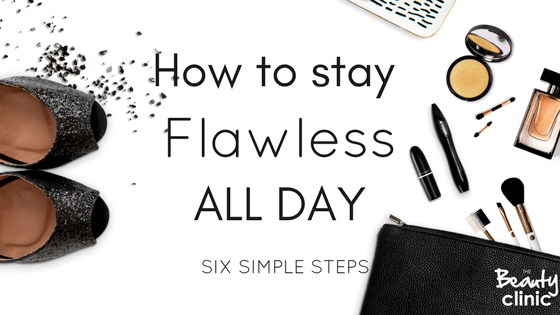 How to stay Flawless all day long
How to stay flawless all day long….
We all spend a certain amount of time getting ready in the morning whether it's just foundation or the full works but we all have that moment mid-afternoon or even when we get home where we look into the mirror and see that makeup we applied this morning has now smudged, run or disappeared altogether.   We have busy days and no time to waste making midday touch-ups so do it right 1st time and keep that flawless face all day, make your make-up last until your ready to take it off.
1.  Perfect 'Canvas'
A painter can't create a masterpiece on a shit canvas and nor can you! The condition of your skin will impact your make up.  If you end up an oil slick by the end of the day no foundation will 'fix' this you must control your oil flow, Same scenario if your make up ends up dry, caked or completely gone you must hydrate the skin.  You must condition the skin to create a flawless face, all Make-up gurus know this and take care of there skin prepping it with high quality Facial products.
2.  Prepped & Primed
Every painter knows you don't head straight in with the paint you must first apply the primer!
Matter how fantastic your foundation may be you cannot pass up the magic of a primer, a makeup primers job is to 1. Create a barrier between your skin and the make-up – Like mentioned above a dry skin will try to absorb any moisture this could also include your foundation and also prevents the make-up clogging the skin. 2. Adheres the makeup – It's like the glue adhering your make-up to the face.
We recommend She Primer, The Pure Magic Primer minimises the appearance of pores and evens out the texture of the skin creating a soft velvety base for the rest of your makeup to sit on. It also helps control shine and prepares the skin for longer-lasting makeup with added Vitamin E to protect and hydrate skin. RRP $19.00
3.  Panda Eyes
Though pandas may look cute we all dread the 'panda Eye' look for ourselves, eyeliner smudged, mascara run and eyeshadow smeared.  There's no super trick to this only finding the right product for you.  Some eye make-up can irritate the eyes and some of the gentle products don't stay put. We have found a product that does both! Eye of Horus cosmetics stay put all day and those with the most sensitive of eyes have had zero irritation.
We recommend Eye of Horus range, safe on the most sensitive of eyes and priced affordably.
(See Eye of Horus website here)
4.  Lipstick or Lipnotsostick?
We have the secret….. It's Lipliner!  Yes we've all heard of it we all own one or 10 but we forget its power. Lip liners were once used to 'Line the lips' just an outline to stop lipstick bleeding but why stop there?  Liners are used to colour in the whole lip and adhere lipstick to the lips and improve its staying power.
We LOVE Eleanor Dorn Lip liners – RRP $28.00.
(Read more about Eleanor Dorn Liners here)
5.  Power of the Powder
Setting powders have been around for decades, a translucent powder with zero colour that's job Is to 'set' liquid foundations, allowing you to add a pressed powder over the top if you are after more coverage or just add some colour to the face with blush and bronzer.  Setting powder will increase your make -up longevity and help control oil flow throughout the day.
We recommend Eleanor Dorn Translucent Powder – RRP $35.00.
(Read more about Translucent Powder here)
6.  Finishing Spray
A Facial mist or setting spray is also a key product for a flawless face facial mists are sprayed over the face as a final step after all make-up to lock in the make-up and moisture in the skin and some can also be used throughout the day to freshen make-up and hydrate the skin. Because we love skin just as much as we love make-up we use Ultraceuticals Balancing Skin mist that acts as a facial mist and setting spray but can be used as part of your skincare routine as a toner before moisturizing RRP$50.00.
(Read about the Ultra Balancing Skin Mist Here)
We stock all of these amazing products at The Beauty Clinic and we only recommend because they are THE BEST. Looking flawless everyday does not have to take a lot of time or cost a lot of money it only takes a few of the right products and some tips and tricks and #1 taking care of your skin.  
beauty, Beauty tips, blog, Eleanor Dorn Makeup, Eye of horus, Make-up, skin, ultraceauticals