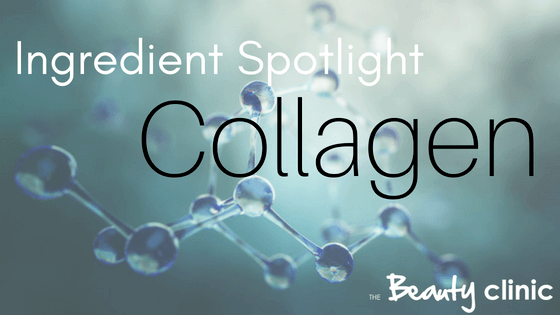 Ingredient Spotlight: Collagen
Ingredient Spotlight – Collagen & why it's in skincare 
Collagen is a commonly used word in the marketing of many Anti-aging products with promises to turn back the clock and 'reverse' the signs of ageing, but what is it really and why is it in skincare?
What is collagen?
We could go into depth about collagen in the human body and its formations (but we're not here for an anatomy lesson) so to keep it simple, it is the main structural protein found in skin and connective tissue.  In the skin, collagen fibres are the foundation of the skin structure, essentially 'holding up' our skin, giving us plump, firm and youthful looking skin. But as we age our production simply slows down, as well as additional lifestyle factors such as sun, smoking, stress, sugar, and pollution all break down the skin's collagen.
Collagen in skincare?
Although collagen is produced in the body we do not extract human collagen for your skincare! Collagen peptides can come from many forms, for example marine collagen from fish, but the issue with these extracted collagen sources is they are still very large molecules which simply cannot pass through the skin – making them useless in skincare. So, what's the solution to this?  We use BIOMIMETICS – Biomimetics is the process of taking a live substance and looking at it under a microscope to study how it functions.  Scientists then 'Mimic' the properties of the live substance and create a replicated version that behaves exactly like the natural source but is a small enough molecule to pass through the skin. (We call it 'when science meets skincare!')
What will collagen do for me?
Keeping our collagen fibres strong will keep our skin structure strong and counteract collagen loss.  By maintaining your own collagen and stimulating the formation of new collagen, the skin will retain its structure and prevent the sagging and formation of wrinkles.  It is crucial is for maintaining our plump, firm and youthful skin making collagen a must have in the Anti-aging skincare department.
When should I start using Collagen?
Your skincare specialist will consult with you and decide whether starting on collagen skincare is right for you but we usually 'Grade' the skin based on ageing on a scale from 1-4 according to signs showing in the skin.  Grade 2 Skins are those who would want to start looking at a collagen product, those are skins with
Expression wrinkles (Laugh lines)
Early Solar lentigines (Age Spots)
Some veins appearing
Pores more prominent
Changes in skin texture
Changes in skin tone
Although ages can be anywhere from late 20's to early 40's, we actually grade skin based on the 'skin age'. You may be 20 years old but with the skin of a 40 year old and vice versa. It is best to speak a skin specialist to thoroughly examine your skin and see which grade you are set at and what products are best suited for you. You may need Stem Cells (READ about Stem Cells here) or if you are a higher grade  DNA Enzymes (READ about DNA Enzymes here).
Where can I find Collagen?
The mesoestetic® Collagen 360° Range gives the face a firmer complexion thanks to its high concentration of biomimetic enriched marine collagen. Tightens face contours and restructures the skin, boosting skin density and elasticity.
We recommend the Collagen 360° intensive cream
It counteracts collagen loss by performing a dual action of maintaining your skin's own natural collagen amino acids and stimulates the formation of collagen
For the Ultimate boost in Collagen production – we recommend the Collagen 360 essence
Collagen 360° Firming Solution Facial 
This deluxe facial is designed to help to help reduce early signs of ageing such as collagen loss. Including the collagen 360°cyrstal fibre mask combined with facial massage techniques, the skin is smoother and firmer.
The Collagen 360 Firming Solution Facial treatment is available on The Beauty Plan. Purchase the 5-treatment pack and receive the Collagen 360 intensive cream to take home free.
Want to know more?   Book a Complimentary skin consultation and talk to one our skincare specialist.