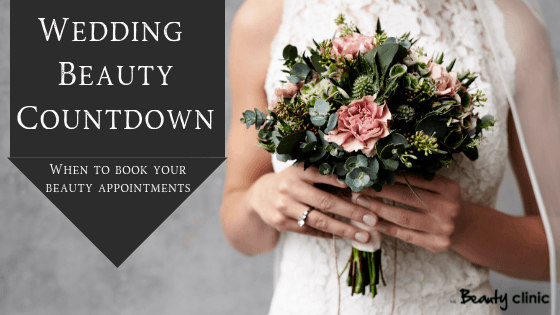 Wedding Beauty Countdown
Planning a wedding can be chaotic to say the least, but it should be the one day in your life you feel the most beautiful (as all eyes are on you as you walk down that aisle).  Thinking about what you need to do to look your best on your big day can seem like a never-ending list so we've compiled your Wedding Beauty Countdown.
6-9 months Out – Skin regime
Depending on your skin condition and concerns you will need to start your skin regime at least 6 to 9 months out, making changes in the skin can take some time and patience.  We recommend booking a complimentary consultation with a skincare expert and talking through your skin concerns. We then can discuss product and treatment options to fit your needs and budget. We offer payment plans which allows you to have the treatments you need without blowing your wedding budget.
We recommend monthly facials in the lead up to the wedding to get the skin in optimum condition.
3 Months Out – Eye Brows
If you are wanting brow perfection you will need to have them expertly shaped at least 3 times before the big day, this allows your brow expert to shape and let them grow to achieve that perfect finish you are after.  Also, if you are wanting to get your brows microbladed (or tattooed) so they stay flawless throughout your tropical honeymoon, 3 months out is the ideal time to let them settle.
Months Out – Tanning
Most brides like to opt for some sort of glow on their big day, whether you are wanting a professional spray tan or you want to build your own tan at home with a gradual tan, you will need to have a trial run first.   We recommend coming in for your trial spray tan before your hen's party or bridal shower and deciding on your shade before the wedding tan.
1 Month out – Advanced Treatments
One month out will be your last advanced skin treatment so we don't run the risk of any peeling or skin reactions to close to the big day. We do recommend booking a hydrating facial the week before and not making any other changes in the skin's routine to avoid any flair ups.
One week out – Hydrating Facial – Eyebrows and Eyelash Tinting
One week out will be your final brow shape and tint as well as your eyelash tint.
You will also have your pre-wedding hydrating facial to boost the skin's hydration and get rid of any fatigue (due to wedding stress).
4 Days Out – Exfoliation & Waxing  
A really good full body exfoliation will not only make your waxing a lot smoother but we need to get rid of any dead skin before tanning.
Any waxing should be done at least 3-4 days prior to tanning as the skin needs time to settle before any tan application.
Day Before – Manicure & Pedicure – Tanning
It's ideal to get your nails done the day before the wedding if possible, as this will have them last throughout your honeymoon. You must have your nails done BEFORE your spray tan as any kind of soaking in water will strip the tan.
Your skin should be well exfoliated and prepped for your spray tan and we recommend allowing enough developing time before showering that evening.
Wedding Day
On the big day we recommend lathering in a rich body cream to help set your tan and have the skin looking hydrated. Applying a skin boosting face mask like Ultraceuticals Energizing Mask will instantly brighten and give the skin a glow. (Do not try any mask on your wedding day that you have not used before in case of a reaction).
Finally putting yourself into the hands of your make-up artist and hair stylist to make you look and feel your absolute best on your special day.   (We recommend Eleanor Dorn Make-up for an affordable and outstanding service).
---