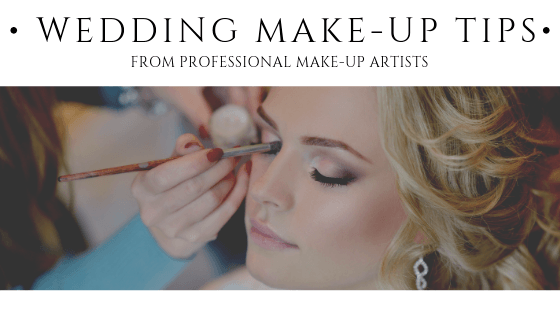 Wedding Make-up Tips
We asked three professional make-up artists their top wedding make-up tips
Lisa Travis –  25+ years in the make-up and beauty industry
Sam Hart- Professional Make-up artist for 11 Years
Eleanor Dorn- Professional Make-up artist for 10 years
What Is the most popular 'wedding make up look you do?
Lisa Travis – I am always asked for a 'natural look', most brides simply want to look like themselves on their wedding day, but the best version of themselves.
Sam Hart – The most popular look I do is what I call "natural Glam" it has all the elements of a full makeup applied in a tural way. I love enhancing a brides features, not masking them!
Eleanor Dorn- A soft champagne & bronzed smokey eye is definitely a popular look, as it opens and highlights the eye without being too heavy ( if the bride doesn't wear much makeup often) Partnered with some soft contouring and highlight on the cheek ( who doesn't want defined cheekbones on their wedding day?) and soft pink-brown lip. It's all about creating a beautiful look so the bride doesn't disappear behind the dress, but also feels comfortable when she is up close to her partner saying "I do".
---
What is the biggest mistake brides make with their wedding make-up?
Lisa Travis – Applying foundation too thickly thinking it will last longer, or overdoing the 'matte' look, which makes you look flat and chalky in your photos.
Sam Hart – Wearing sunscreen! I know its controversial, but sunscreen is one of the main reasons you could have a ashback. Sunscreens reflect light, so when flash photography happens it will cause a white cast on the face. This leaves your face and body 2 different colours. I never add sunscreen in my makeup looks but some brides insist on putting it on. Nearly every bride who has done that has messaged once they got their photos back and said they should have listened to me.
Eleanor Dorn- Worrying about what other people think of their makeup, instead of being happy and comfortable with the look on themselves. While it's good to get a second or 3rd opinion at the end of the day it's how the bride feels which will make her feel confident and beautiful – which is the most important thing!!
---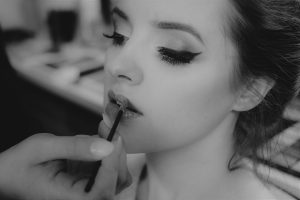 How should brides prepare the skin for their make-up?
Lisa Travis – I have always said that makeup is like painting, so the better prepared the canvas is the better your makeup will look. At least 6 months prior to your big day, talk to a beauty therapist about putting together a treatment plan and get the best homecare products to boost your results. We offer bridal plans at The Beauty Clinic, and have free consultations if you just want to come and talk to us.
(See Bridal Packages) 
Sam Hart – HYDRATION IS KEY! If you want your makeup to sit smooth and flawless, you want plump juicy skin! Drink plenty of water and invest in a hydrating mask. An exfoliating treatment is great too but if you have never had one make sure you try it months before the wedding. I have seen too many brides have a fancy skin treatment the week before the wedding and have a major breakout. Not ideal.
Eleanor Dorn- Looking after the skin and keeping it hydrated is key – water, and also a good skincare regime. I usually recommend the bride exfoliates a day or so before the day so the skin is fresh.
---
How far out does wedding make-up need to be booked?
Lisa Travis – Some brides book their makeup artist a year out, this will guarantee you availability for your special day. If your wedding is in summer this is the busiest time of year for makeup artists, so you will probably need at least a year ahead to book the artist you want. If you are having a winter wedding you may find more availability.
Sam Hart – Well it all depends on whether or not you are a big makeup wearer or if its important to you. If it's an important part of your big day you want to book your favourite makeup artist as soon as possible. I for instance get booked out a year or 2 in advance.
Eleanor Dorn- If the wedding date is during peak wedding season (Dec – April) then allow for at least 6-8 months). Offseason there may be for flexibility. Weekday bookings can usually be done at shorter notice
---
What's your best piece of advice for brides?  
Lisa Travis – Have a trial with your makeup artist! This is usually included in your bridal pricing and is really important as that look you've always wanted may not actually suit you. Plus, you then know exactly what to expect on the big day.
Sam Hart – Have a trial! It means way less stress for you and your makeup artist. That way you can try out different colours and styles. Sometimes what you think you want from a picture on the internet doesn't suit your features. So, it's best to try it beforehand!
Eleanor Dorn- The wedding day is a long day, while I don't suggest taking on loads of makeup (if you never wear it) be aware it's important to have fuller coverage so your makeup lasts till the last dance, and also your complexion looks great in your photos.
---
Need a Make-up artist for your wedding?


---
When is the ideal time to book in your wedding beauty treatments??
Read our Wedding Beauty Countdown blog here