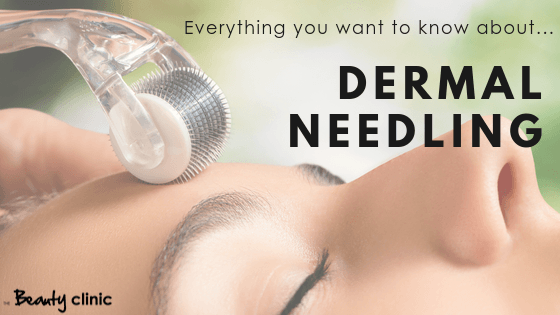 Everything you need to know about Dermal Needling..
From Kim Kardashian making her 'Vampire Facial' famous to all of the latest advances in technology for skin treatments, Dermal Needling is having a rapid re-growth in popularity!  That is because this facial treatment is not just simply a 'fad' but is a decades old proven treatment still producing incredible results in the skin. It is in fact one of the only successful treatments for scarring!
What is it?
Dermal Needling also called Collagen Induction Therapy (or CIT) is based on creating micro injuries and triggering the skins own repair process, stimulating growth factors to produce new collagen and elastin. Dermal needling has seen a huge rise in popularity in recent years with the introduction of 'Dermal Pens'. Using medical grade surgical stainless steel needles, the Derma CIT pens are also able to be adjusted to variable needle lengths. The pens have single use needle cartridges attached (which are then disposed of after each treatment), which rapidly puncture the skin. Essentially, we are poking holes into your skin which then rebuild and re-grow brand new skin up each of those individual channels.
 What are the benefits?
Reduce lines and wrinkles
Improve scarring and pitting mainly caused by acne
Reduce pigmentation
Reduce pore size
Tightening Skin
Improve skin texture
Improve overall skin structure and appearance
Increases penetration and absorption of topical products
How many treatments do I need?
We usually recommend a series of at least 3 sessions 4-6 weeks apart but this will vary depending on the condition of the skin.
What can I expect from the treatment?
The treatment typically takes 30-45 mins starting with prepping the skin for the treatment. The needling is performed by section and is completed in a matter of minutes.  Due to the speed of the pens, you do not require any topical anaesthetic with this treatment as it is considerably less painful than the manual rollers. You may feel some slight stinging or discomfort during the treatment but this is over in no time at all.
Your therapist will give you aftercare advice and product to take home if needed.
What is the down time and are there any side effects?
For a few hours following the procedure the skin can remain quite red and possibly swollen, some people also experience some itchiness and feeling of mild sunburn.  Most return to normal within hours so we recommended an afternoon or evening appointment as this subsides by the next day. The following days the skin may become either quite oily or dry and often tight.
This is a before and straight after treatment you can see the skin is quite red but this subsides within a matter of hours.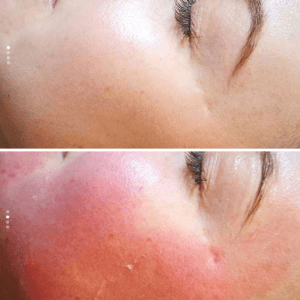 When will I see results?
You may begin to see some subtle changes in the skin in the following weeks but collagen will begin to form from six weeks after your treatment and your skin will continue to improve for up to six months. Because we are working at a dermal layer results are gradual and not instant like some other treatments, in our CIT treatments we also include a highly concentrated ampoule suited to your particular skin concern these ampoules boost the results of the needling and dependant on which ampoule we use you may get some instant results like the skin looking more refined and smoothed or possibly even some peeling.
I'm still not sure if Dermal Needling is right for me?
Book a complimentary consultation, let us take you through the entire process and answer any of your questions. We want you to feel 100% comfortable with any procedure you are thinking about having and if you decide that dermal needling is not for you we are happy to discuss other options to help you treat your skin concerns.
Watch a full CIT Treatment Here