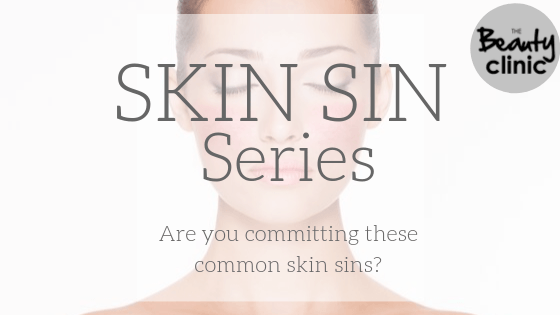 Skin Sins
How many of these common skin sins are you committing?

Skin Sin #1 – Over- Exfoliating
The feeling of squeaky-clean skin is great we know! But over-exfoliating can exacerbate conditions and break down the skins barrier.
1-2x weekly is recommended.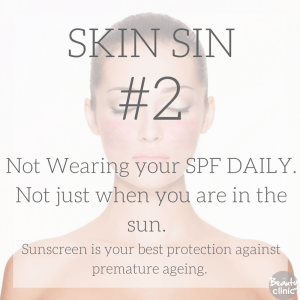 Skin Sin #2 – not wearing your SPF daily
Not just when you are in the sun, Sunscreen is your best protection against premature ageing.  The damage caused by the skin is almost irreversible, but also so easily prevented by wearing a high-quality SPF every single day.

Skin Sin # 3 – Skipping the double cleanse
The first cleanse removes any dirt picked up from the day, as well as any dead skin cells the have built up on the surface.  The second cleanse actively cleans the skin leaving it completely free on anything that will block the absorption of your products.

Skin Sin #4 – Not using any products because I have "Sensitive skin"
Your skin needs extra care and the correct products not using any product at all is not the answer to your problem, let a skin therapist find what may be causing your sensitized skin and what the right products for you are.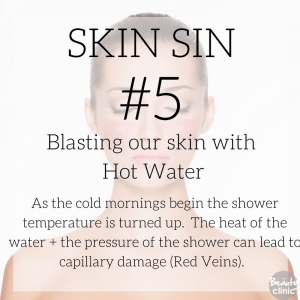 Skin Sin #5 – Blasting our skin with Hot Water
As the cold mornings begin, the shower temperature is turned up. The heat of the water plus the pressure of the shower can lead to capillary damage which is where the very delicate veins burst and the blood rises to the surfaces leaving you with red veins visible most commonly on the cheeks and nose.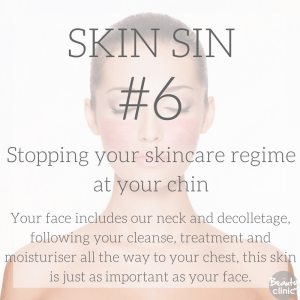 Skin Sin #6 – Stopping your skincare regime at your chin
Your face includes your neck and décolletage, continuing your cleanse, treatment product and moisturizer all the way to your chest as this skin is just as important as your face.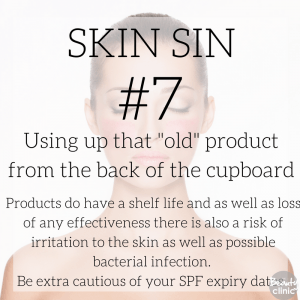 Skin Sin #7 – Using up that 'old' product from the back of the cupboard
Products do have a shelf life and as well as loss of any effectiveness the product may have there is also a risk of irritation to the skin as well.  To find out the expiry of a product it will be located on the back or bottom of every product it is a little symbol of an open jar with a number e.g 3m 6m this is how long the product has to be used once opened.
Be extra cautious of your SPF expiry dates, sunscreens will have an actual date printed on the bottle and this should not be exceeded.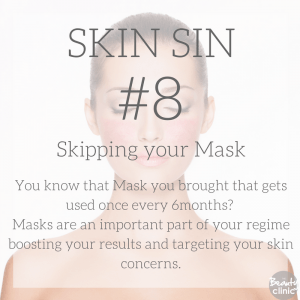 Skin sin #8 – Skipping your mask
You know that mask you brought that gets used once every 6 months? (Which you should probably throw out now Skin Sin #7!)
Masks are an important part of your regime boosting your results and targeting your skin concerns, a mask is ideally done once or twice a week depending on the type of mask, ask your skin specialist.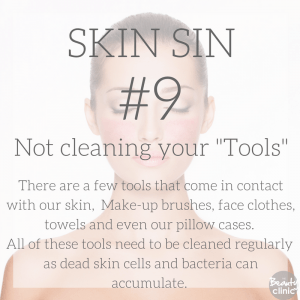 Skin sin #8 – Not cleaning your "tools"
Anything that comes into contact with our skin needs to be regularly cleaned such as our Make-up brushes, face cloths, towels and even our pillowcases.  All of these need to be kept clean as dead skin cells and bacteria can accumulate.
Also, don't forget about our hands!  You will be shocked at how many times you touch your face throughout the day, keep your hands off your face as much as possible and keep them clean.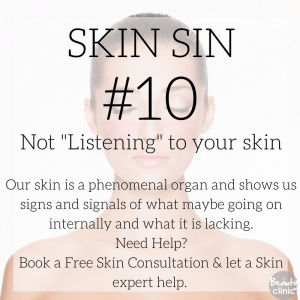 Skin Sin #10 – Not listening to your skin
Our skin is a phenomenal organ, we tend to forget it is actually our largest living organ and shows us signs and signals of what may be going on internally and what it is lacking.  Your skin will give you signs of dehydration, stress, hormonal imbalances and even more serious conditions.  Take notice and don't ignore the signals the skin is giving you.
Need Help figuring out what your skin is trying to tell you?