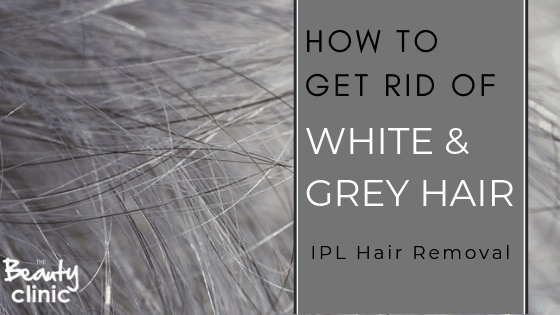 How to get rid of White & Grey Hair
If you are a fair-haired beauty you may have either had IPL treatment in the past with next to no result, therefore a huge waste of time and money? Or, you have been turned away from treatment. We can tell you why…
Traditional IPL/Laser machines are only able to use the melanin (the colour) in the hair to absorb the pulsed light, which in turn destroys the follicle. But this method is not suitable for any light hair colours white, grey and red hair as they are missing that melanin.
The EFB Beauté Adéna IPL uses a patented system which does not rely on the melanin in the hair to absorb the light energy. Instead, it targets the blood vessels directly, preventing the growth of blonde, white & red hairs.
The process is different from the standard IPL/Laser hair removal process.
The 3 Step Process:
Wax –

Waxing stimulates & heats the blood, bringing it to the root of the follicle.

Ice –

Ice is applied to the area, cooling after the heat of the wax. This thickens the blood.

IPL Treatment –

Once the wax & ice processes are completed it's time to treat.
This process destroys the root of the hair follicle, detaching it from its blood supply, in turn, the hair does not grow back.  A series of 12 treatments 6-8 weeks apart is recommended for white hair IPL for maximum results. During your treatment, the hair must stay in the follicle, this means no waxing, plucking or threading the hair, we need your hair to continue its growth cycle.
Some Facts & Figures
Independent Clinical Studies by Dermscan France

The study was carried out on 14 healthy subjects, aged from 23 to 76 years (average age: 50 years), presenting blonde or white hairs. All presented precise inclusion and non-inclusion criteria

.
Under these study conditions, the photo-depilation process:
has significantly decreased the hairs density as on the light hairs (-51% of white hairs and -27% of blonde hairs after one session). Was appreciated by the subjects for its effectiveness (71%) and the absence of unpleasant feelings during the sessions (43%).
Book your complimentary consultation today. Plus ask us about our easy, interest-free payment plans.
Want to know more? Read our The TRUTH about IPL Hair Removal Blog, we debunk the common myths around IPL Hair Removal.
beauty, Beauty tips, clinic, consultation, expert advice, hair removal, IPL, IPL hair removal, Laser, Laser Hair removal, professional, skin, therapists