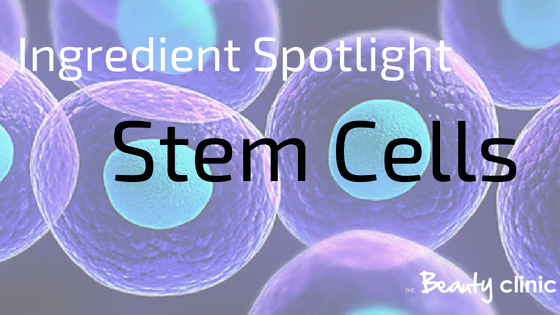 Ingredient Spotlight: Stem Cells
Ingredient Spotlight: Stem Cells & why they're in our skincare?
Our skin's are filled with stem cells but as we age and are exposed to external aggressors these cells die and have trouble repairing themselves. These stem cells are crucial to our skin's function but what do we do once they are gone?
What are Stem Cells?
Stem cells are a unique cell in the body that have the ability to become many different types of cells through a specific process (No Science lessons here so we'll not go into any detail!).  But stem cells play a huge part in the healing of the body, for example: the tissue in our skin needs constant renewal, a variety of stem cells are needed to maintain and repair our skin on a daily basis. Researchers have identified the specific stem cells responsible for making the epidermal layer, hair follicles and skin pigments.
Stem cells in skincare?
Stem cells in skincare are sourced from plants, fruit or vegetables but these are not live stem cells but extracts of the cells so basically, they are DEAD fragments of the stem cells making them virtually useless! So we use BIOMIMETICS – Biomimetics is the process of taking a live substance and looking at in under a microscope to study how it functions.  Scientists then 'Mimic' the properties of the live substance and create a replicated version that behaves exactly like the natural source but does not have any of the disadvantages associated with the use of plant extracts.
Why would I use stem cells?
We all go through hard times in our lives whether its illness, stress or environmental elements like smoking or medications all of these factors have an effect on our skin. Anything happening 'internally' in our bodies will show through our skin (Like when somebody says "You look exhausted').  Also perfect for sensitive skin's, highly reactive or damaged skin's. Stem cells are your best friend at these times as they aid in the skin's recovery and protect and reactivate our own cells.
Extra Tip:  Stem cells are perfect for those on Roaccutane – Roaccutane being an extremely potent medication for those with severe acne.
Where can I find stem cells in product?
Mesoestetic® Stem Cell line with high concentrations of biomimetic plant stem cells, designed to reverse the slowdown in cell regeneration, strengthening connective tissue structure and improving skin quality and texture.
We have seen incredible results on our clients that have badly damaged skins; reducing inflammation, redness, irritation and correcting their skin in a very short time span. Our favourite is the Stem Cell Active Growth Factor moisture cream.
We also love the Stem Cell nanofiller Lip contour
This product is perfect for those who are wanting fuller lips without the need for filler (OR for those who do get lip filler the Lip contour cream will get rid of any bruising post filler AND make your filler last longer!) But this treatment on it's on will plump and hydrate your lips.
Stem Cell Regenerative Facial
This divine facial treatment is perfect for skin showing signs of stress, environmental damage or just needs a boost. Includes the stem cell crystal fibre mask and an exclusive massage technique, this facial repairs and regenerates the skin. If your skin feels comprised and flat this is the facial treatment for you!
The Stem Cell regenerative Professional treatment is available on The Beauty Plan. Purchase the 5-treatment pack and receive the Stem cell active growth factor cream to take home free.
Want to know more?   Book a Complimentary skin consultation and talk to one our skincare specialist.
And read our other ingredient spotlights on: