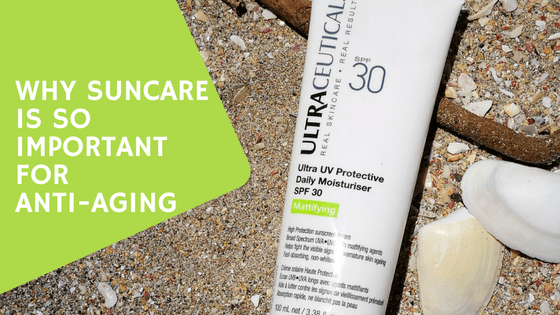 Why sun care is SO Important.
As summer comes every year, we all look forward to the warmer weather, days spent at the beach and bronzing up our winter skin's. But most of us tend to forget the more serious & dangerous side of the sun. Did you know that 4000 people are diagnosed with either melanoma  or invasive melanoma every year in New Zealand? That is around 11 people every single day.
Skin therapists are not only concerned with the cosmetic side of sun damage, which we see presented as hyper pigmentation and premature aging, but also the real reality of skin cancers.
If we go back 30 years ago, sunscreen was not talked about a lot, if at all. We were simply unaware of the damage the sun was doing to our skin, in fact sun cream was not an issue and most of us were liberally covering ourselves with baby oil in the quest for a better tan.
We are now seeing those clients who were those sun bunnies from 30 years ago. Their pigmentation has slowly, over those 30 years, been making its way to the surface and is now prominently appearing on the skin. Our job? To attempt to reverse damage that has been 30 years or more in the making. Is it possible? Yes, using high quality skin products and in clinic treatments. It is a slow process but great results can be seen. But the best course of treatment, is always prevention.
Sunscreen is a skin care MUST, it should be worn daily no matter if its rain or shine; if there is light, there are UV rays.
There are two types of UV rays we need to be protected from, UVA and UVB.
UVA refers to the 'ageing' rays. These are present in the same strength all year round and are not weather dependent. So you will get as much damage from UVA rays in the middle of a cold, wet, dark winters day. UVA rays are also able to penetrate much deeper into the skin, penetrating through the upper layers (epidermis) and into the dermis. This is where our collagen, elastin, connective tissue & blood vessels are, and damage done in this area is much more harmful.
UVB refers to the 'burning' rays, this is literally the 'heat' that you feel from the sun, which is much stronger in summer. UVB is what will burn and blister your skin, it penetrates only into the top layers (epidermis) of your skin but will accelerate the risk of getting skin cancers. As little as 1 sunburn before the age of 20 will dramatically increase your chance of skin cancer, which shows the importance of wearing sun protection daily.
This is why it is important to chose a Sunscreen that is Broad Spectrum. Broad spectrum means the Sunscreen offers protection from both UVA & UVB rays.
We no longer have to have thick, heavy, greasy, white zinc/sunscreens smeared across our face, most Skin Brands offer lightweight, non greasy, non-comedogenic sun products which are easy to wear. The skin care industry now offers a large range of sunscreens combined with our daily moisturizer. These are often packed with anti-oxidants and vitamins too. Make sure your daily moisturizer is Broad Spectrum and has at least an SPF15 or higher.
What does SPF mean?
It literally stands for Sun Protection Factor. In the early days of Sun products the rating/number on the packaging referred to your burn time and how often you needed to re-apply the product. Say for example you went in the sun in the middle of the day when it is the hottest, with no sun protection, how long would it take for your skin to burn? Let's say 10 minutes for this example. That meant a SPF15 would give you 15 times your burn time- 15x 10minutes = 150 minutes (2 1/2 hrs protection).
That meant if you were using an SPF30 you would get 5 hours protection, a SPF50 would give you over 8 hours protection!
These burn times are simply no longer relevant or safe to rely on.
Rather, the SPF rating now refers to the amount of physical block you are getting from the UVB rays.
A SPF15 will give you (depending on the product) around 80-85% block from UVB.
A SPF30 will give you around 85-90% block from UVB and an SPF50 will give you around 90-95% block from UVB.
This also means that SPF ratings of extremely high numbers like SPF70, SPF100 etc are actually misleading and are being phased out completely.
We recommend to everyone to reapply their sunscreen every two hours regardless of what brand you are using, plus reapply straight after heavy perspiration or swimming, even if the brand you have says it is water resistant or waterproof. Plus, please combine sunscreen with a hat and sunglasses if you are exposed to direct sunlight.
Another misleading fact about Sunscreens are that you will not tan. Some people will not use sunscreen at all or not reapply it, literally sacrificing their skin and health for a tan.
As these sunscreens are not a total 100% block, some UVB rays will still penetrate and you will still tan, but without the risk and damage.
We are often given strange looks when we are asked in the clinics, what is the most advanced, anti-aging skin care product we have. Our answer every time is SPF Moisturizer!
We simply cannot stress enough the damage the sun causes to our skin and how the simple action of applying an SPF daily can prevent such damage from occurring.
So please think twice next time you consider skipping the SPF for that extra tan!
Our favourite Sunscreens are:
Ultraceuticals Daily Moisturiser range, these are available in a Hydrating formula for dryer skins, Mattifying for oilier skins, Sheer Tint for those that don't wear a lot of makeup and would like a wash of colour, and a Mineral formula for sensitive skins.
advanced skincare, aging, beauty, blog, clinic, pigmentation, professional, skin, Skincare, sundamage, sunscreen, therapists, ultraceauticals